---
Our group is focused on multiscale modeling and simulation to address energy-related and enviromental problems by supporting experimental research in the design of new processes and materials for specific applications such as gas separation, desalination by RO and VOC removal:
- Modeling and optimization of separation processes, such as adsorption and membrane separation.
- Molecular modeling of materials, such as zeolites, MOFs, polymers and polymer composites.
- Computational screening of catalysis.
We join our efforts to MEMASEP (Membrane Materials & Separation Technologies Research Laboratory) by bridging modeling and experiment to find solutions to the energy and water related problems of the society.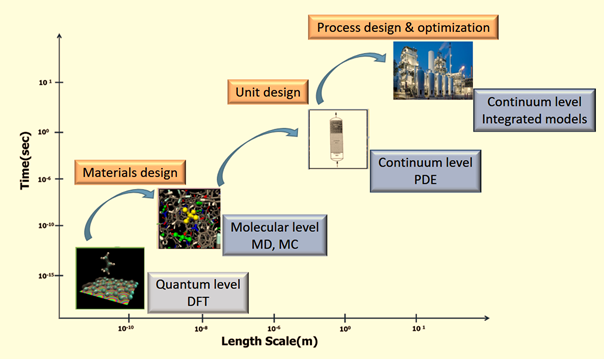 Multiscale Design Hierarchy
Please visit our Research page for detailed descriptions of our past and current projects.
---
Announcements:
Patent application has been filed for a new concurrent desalination and boron removal (CDBR) process. Visit MEMASEP for details. (May, 2017)

Sadiye Velioglu has received the "Best PhD Thesis" award of the Istanbul Technical University. (June, 2016)

We are the WINNER of the 8th Industrial Fluid Properties Simulation Challenge. Good job Barış Demir! (November, 2014)

New grant from TUBITAK has been received: Molecular Engineering of Green Plasticizers. (August, 2014)

PhD candidate Sadiye Velioglu received the "Best Poster Presentation Award" at the International Congress on Membranes and Membrane Processes (ICOM2014). (July, 2014)

We are 1st Runner-Up in the 7th Industrial Fluid Properties Simulation Challenge thanks to the efforts of Barış Demir! (November, 2012)
The related article: B. Demir, M. G. Ahunbay, "Prediction of Perfluorohexane Adsorption in BCR-704 Zeolite via Molecular Simulation", Fluid Phase Equiblibria, 366, 152-158 (2014), doi:10.1016/j.fluid.2013.07.009.
---

Prof. Göktuğ Ahunbay
Phone: +(90) 212-285 7217
Fax: +(90) 212-285 2925
E-mail: ahunbaym[at]itu.edu.tr
Faculty of Chemical and Metallurgical Engineering, Ayazaga Campus, Maslak 34469 Istanbul, TURKEY