The reporting software is an Microsoft Excel (2013 Version) file working with Visual Basic Macro background. This file groups and creates everything. Produces tables, contour plots etc. It also plays the role of an on-board software obtaining best trim condition for existing load case.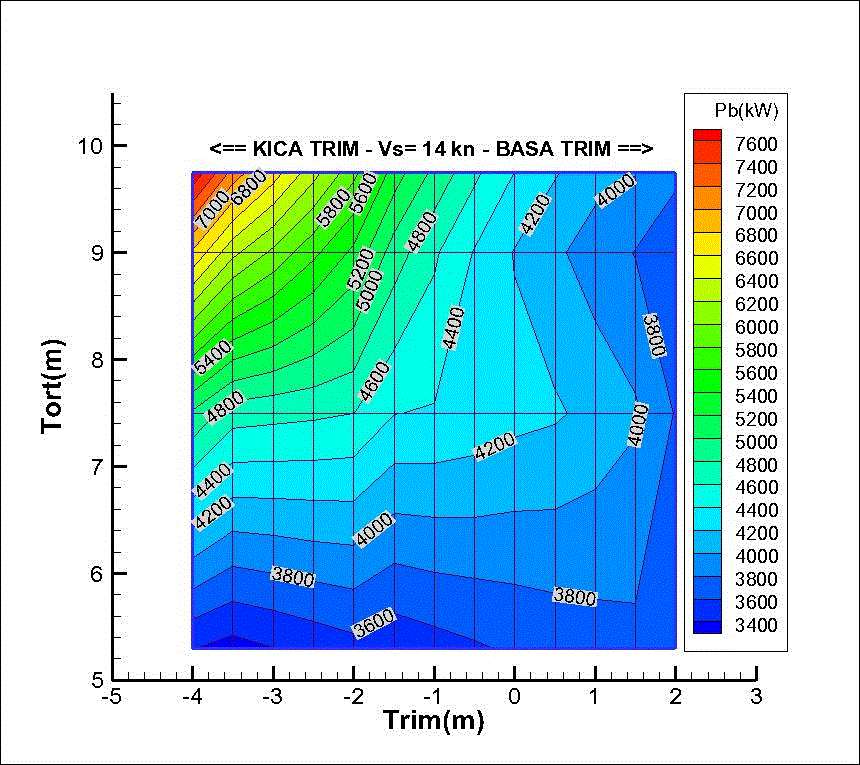 The figure shows one of the outputs of this software. Contour plots can tell important knowledge with a simple plots that can be interpreted via numerous numbers of tables etc.. The plot shown above was created 14 knots of service speed. Iso curves are the main engine loads computed from the previous phase. Therefore the crew can find optimum loading line by inspecting the plot.

Another important feature of this software lays on its on-board characteristics. The figure shown below is the main page of the program.
The crew only enters speed, aft and fore drafts initially. The speed is written in B9 cell, aft and fore drafts are written in C9 and D9 cells, power of shaft generator is written in F9 cell; current, wind effects are written in H9 and J9 respectively with their conditions (0=negative, 1=positive, 2=neutral for H10 and J10), power of main propulsion unit is written in cell N9 and and let the program run by clicking "Run Macro" button. The Trim-Engine power curve is generated. Then, by inspecting the nature of plot, the crew should make a decision about the optimum trim. The optimum trim values shown in the graphs may not be applicable practically. But, say, 1 meter trim to bow is written in E9 cell and let the program run for 1 meter trim to bow condition the outputs appear in F14 and F18 cells. F14 cell tells original trim (in this example zero trim) case. F18 cell tells the current 1 meter trim to bow case. The differences are also shown in cells B21 and B22 and their loads are appeared in cells N9 and N10.
As an example of a real case 13.74/12.74 meters of aft and fore drafts, the required engine power is about 7340 kWs. If the captain prefers bow trim condition (12.74,13.74 m aft and fore drafts), the engine power would have been 6998 kWs, therefore 4.7% power gain could be obtained. The software can produce this plots for different ships' speeds.
Excel Version of the Program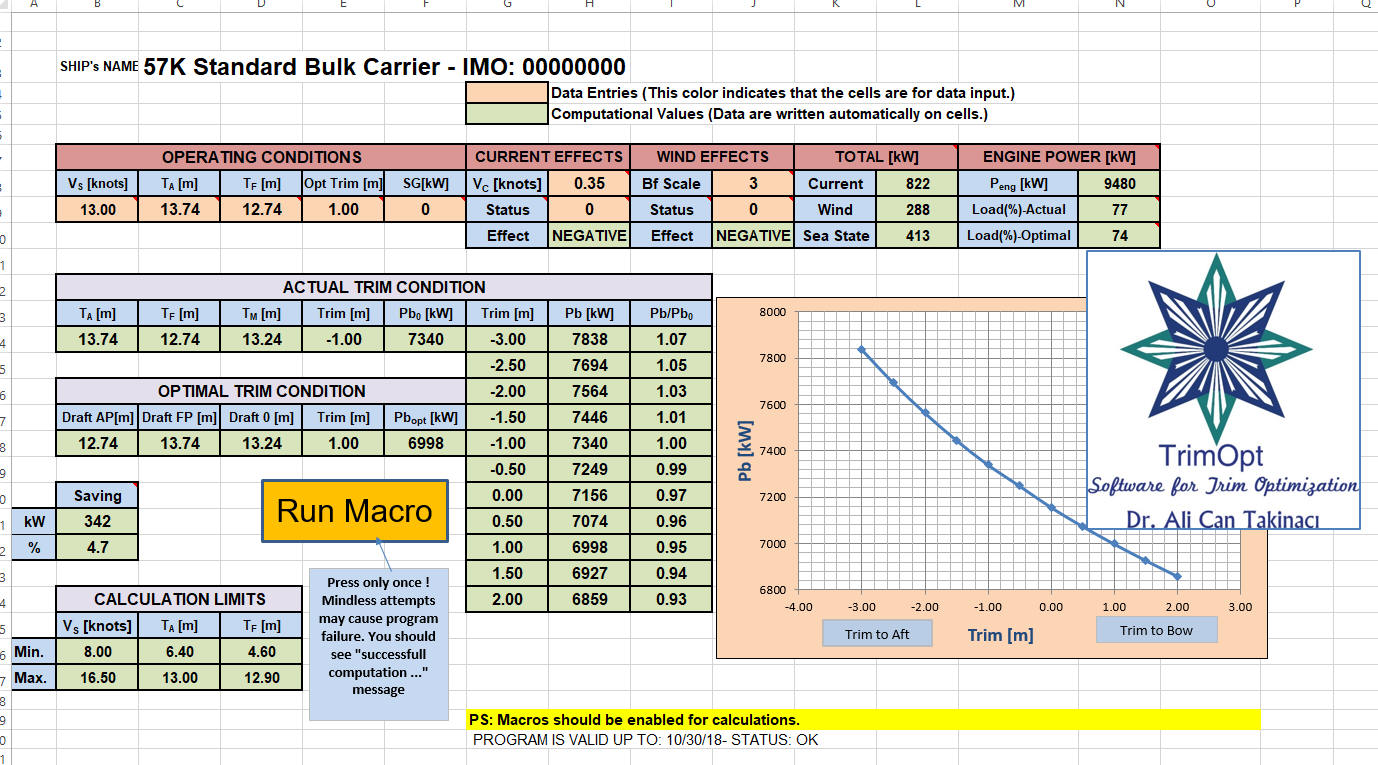 In addition to excel version of the program, a new version developed under Visual Basic 2010 is introduced.
Standalone file version of the program