<![if !supportEmptyParas]> <![endif]>

Overall length: 121.9 m

Beam: 16.1 m

Draft: 5.3 m

Gross Tonnage: 5169 tons

Passengers: 333

Power: 8000 HP

Service Speed: 18.5 knots

Operating Routes: European and North African liner and cruising routes. Mostly Black Sea, Mediterranean and Aegean.

Sister (or similar) Ships: M.S. Armeniya (later, M.S. Odessa Spring, broken-up in 1995 as M.S. Arm), M.S. Estoniya (broken-up in 1997 as M.S. Ekaterina II), M.S. Felix Dzerzhinskiy (sunk in 1993 as M.S. Excelsior Neptune), M.S. Latviya (broken-up in 1996), M.S. Mikhail Kalinin (broken-up in 1994).

Former Names: None.

Later Names: M.S. Odessa Dream (1991, never in effect), M.S. Boguchar (1994), M.S. Fujian (1995), M.S. Green Coast (May, 2000).

Owners:
- 1960-1995: Black Sea Shipping Company (BLASCO), Odessa, Soviet Union, then Ukraine.
- 1995-Present: Fujian Shipping, Hong Kong. Operated by the Green Coast Shipping, Hong Kong, since May, 2000.

History and Current Status: She was built in 1960 as M.S. Litva of BLASCO, by the Mathias-Thesen Shipyard in then East Germany. She was one of six Mikhail Kalinin class coastal liners built by the same shipyard between 1958 and 1964. Originally, she was designed to be a coastal liner, easy and profitable to operate between Soviet and European ports in coastal regions. However, with changing trends in the eighties, she was also used for low budget cruising all throughout Europe and North Africa. In 1991, she was going to be sold to Odessa Sun Ltd., Malta, (like M.S. Odessa Sun, ex. M.S. Uzbekistan and M.S. Odessa Spring, ex. M.S. Armeniya) and she was going to be renamed M.S. Odessa Dream, but that never materialized. In 1994, she was renamed M.S. Boguchar to serve between Odessa and Istanbul but that never turned into a succesfull operation. Already a 35 year old vessel then, she was sold to Fujian shipping of Hong Kong for scrap and renamed M.S. Fujian. There were rumors that she got scrapped in the Far East in 1995 but a February 2002 article that appeared in West Coast Sailors of San Francisco, California, reports that she was still afloat then, under the name of M.S. Green Coast. Apparently, she is in very bad shape, soon to be scrapped, if not already. As of May, 2002, I consider her fate to be unknown.

Thanks to Patrick Wetter of DeMalo and Partner, Luxembourg, for his valuable knowledge on ex-Soviet passenger vessels.

(email all info about her to ata.bilgili@dartmouth.edu)

Notes: Now, talk about one of the best combinations of grace and usability! With her graceful classic lines, M.S. Litva was perfectly suited for her design goal: a cheap but reliable transportation between coastal Soviet ports, as well as close proximity European ports in Baltic and the Black Sea. For over 35 years, M.S. Litva visited the European ports with no signs of tiredness, before the changing times and policies led to her inavoidable fate: In the 90's, there was no place in the industry for small and non-luxurious vessels!

Being a very frequent caller at Istanbul, M.S. Litva usually disappeared between bigger and rarer ships docked alongside. Although she is no trend setter, I always considered her (and her sisters for that matter) to be one of the most graceful ships at human scale. Seeing her, especially with her brightly colored white hull and her funnel proudly carrying the red and yellow logo of the USSR, just out of the drydock, was a real treat to the eyes. It is sad that all of these older Kalinin class vessels are no more, either scrapped or sunk. I wish some port or entrepreneur showed the effort to preserve one of these sisters as a floating museum or even hotel. Bu alas!... Another part of maritime design history down the pages of history!... So long M.S. Litva!...

Links:

Line Drawings: From the book "Soviet Bloc Merchant Ships" by Bruno Bock and Klaus Bock, 1981.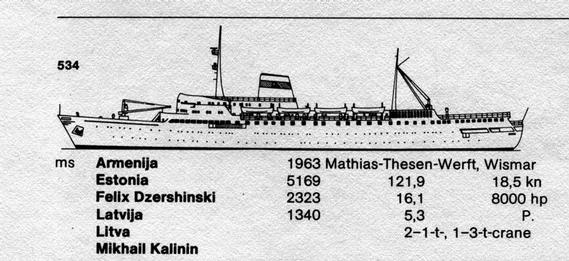 Other Pictures: