T.S. EUGENIO C
Costa Armatori S.p.A. (Linea "C")
Genoa, Italy
<![if !supportEmptyParas]> <![endif]>
<![if !vml]>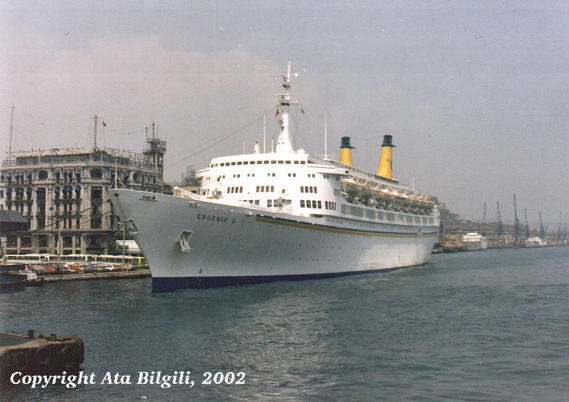 <![endif]>
Photo taken in Istanbul, 1986.
<![if !supportEmptyParas]> <![endif]>
Built: 1966 by Cantieri Riuniti dell'Adriatico, Monfalcone, Italy. Refurbished in 1990, in December, 1994 and between September 1999 and May 2000.
Technical: <![if !supportEmptyParas]> <![endif]>

Overall length: 217.5 m

Beam: 29.3 m

Draft: 8.6 m

Gross Tonnage: 32753 tons

Passengers: 1636

Power: 2 Cantieri Riuniti dell'Adriatico steam turbines, 40456 kW.

Service Speed: 27 knots

Operating Routes: She served in the European-South American passenger trade in her first years under Costa management, mostly between Genova and Buenos Aires, Brasil. Later, she was used in worldwide cruising and extensive Mediterranean cruising between 1985 and 1998 by Costa. Under Direct Cruises, she did Mediterranean and Scandinavian cruises out of Glasgow and Liverpool. In the beginning of 1998, she was used in gambling cruises out of New York City. Under Premier management, she operated mostly in the Caribbean and in US and Canadian Northern Atlantic.

Sister Ships: None. However, M.S. Oceanic is often considered to be a similar ship since she was designed by the same naval architect with similar lines.

Former Names: None

Later Names: T.S. Eugenio Costa (1984),T.S. Edinburgh Castle (1996), T.S. The Big Red Boat II (2000, although her legal name is still T.S. Edinburgh Castle)

Owners:
- 1966-1996: Costa Armatori S.p.A., Genoa, Italy.
- 1996-September, 1999: Lowline Shipping Ltd., Amersham, UK, on charter to Direct Cruises.
- September, 1999-September, 2000: Cammell Laird (parent company of Lowline Ltd.), Merseyside, UK, chartered to Premier Cruise Line.
- September, 2000-Present: Laid-up in Halifax, Canada, then Freeport, Bahamas, awaiting sale/charter under the management of the International Shipping Partners, (USA, UK and Denmark)

History and Current Status: She was built for Costa Armatori S.p.A between 1964 and 1966 to replace the aging M.S. Federico C in the European-South American route. In the 70's while still making regular crossings, Costa slowly turned her into cruising because of the decline in the regular ocean crossing. In 1985, when the South American route disappeared completely, T.S. Eugenio C started doing full time cruising, mostly in the Mediterranean and Europe, but also to the Americas. Flagship of the Costa fleet, she was one of the most luxurious liners afloat and very succesfull. In 1984, her name was changed to T.S. Eugenio Costa, following the trend set forth by the other Costa ships, but the Costa part did not get written on the hull until 1987. In 1996, due to her age and mechanical problems, Costa decided to sell her. Lowline Shipping Ltd. of United Kingdom purchased her, renaming her T.S. Edinburgh Castle. Chartered to Direct Cruises, she was used on European budget cruises out of England for a while. When Direct Cruises got purchased by Airtours in 2000, the charter did not get renewed, Lowline filed for bankruptcy and T.S. Edinburgh Castle's ownership got transferred to Cammell Laird of UK, the parent company of Lowline. In May 2000, Premier Cruise Lines chartered her and started using her in low budgeted, middle-class oriented cruises along the Eastern seaboard of the United States. One good thing about this short era was that T.S. Eugenio Costa was sailing with her half-sister, T.S. Oceanic (or The Big Red Boat!) under the Premier management. This low-priced cruise move did not give the results expected by Premier and they went bankrupt in September 2000. T.S. Eugenio Costa got arrested in Halifax, Canada, for Premier's debts. After another short while spent at the Navy Homeport on Staten Island, NY, she got chartered out to Big Red Boat II Ltd. to operate in cruises out of Port Canavarel, FL, but this effort failed. She then joined the other members of the Premier fleet for lay-up at Freeport, Bahamas, in November 2000. In December 2000, there were rumors that the Imperial Majesty Lines were going to charter her but that never materialized either. To summarize, she has been laid up since!

(email all info about her to ata.bilgili@dartmouth.edu)

Notes: The good old T.S. Eugenio C of Linea "C"! I still remember the first time I received a postcard of her from Costa back in 1979. I had asked them the current name of Compagnie Generale Transatlantique's T.S. Flandre (T.S. Carla C, back then), and they had gotten back to me with a bunch of catalogues and postcards of the great Costa vessels of the time (Costa had always been a great provider of free documents and postcards back in the 70's and 80's). I had not seen T.S. Eugenio C before in real life, so it was a great pleasure for me to find out that this flagship with similar design parameters to T.E.S. Canberra of P&O was going to stop by Istanbul during the summer of 1980. I could not see her that year, but I was able to see her many times in the mid 80's. With her characteristic yellow funnels angled away from the decks, sleek design and beautifully shaped bow (one of the best looking bows ever), she was one of my all time favorite ships. No wonder she was called "The ship of the future" back in 1966!...

While she was being used extensively in the Mediterranean cruises between 1985 and 1987, I had many opportunities to contemplate her and in one of them, coming back from Istanbul Technical University, I was able to take these photographs of her in Costa colors. I am happy I did! I bumped into her in Newport, Rhode Island, in the Summer of 2000, while she was sailing under the colors of the Premier Cruise Line, and I hated everything that was done to her, from the pinkish red hull color (see pictures below) to the name: The Big Red Boat II!... Such a sad name for a classy lady like Eugenio C... What did they think she was, a bathtub toy?...

Since the bankruptcy of Premier late 2000, T.S. Eugenio C has been laid up in Freeport, Bahamas. She is offered for charter or sale as of January 2002. Considering that she was having engine, A/C and other fitting problems while she was operating for Premier, it looks unlikely that she will be sold for cruising again. I hope that I am wrong and that she will be purchasd by a cruise company like her half-sister, T.S. Oceanic, that returned to active service on March 21st, 2001, to make Mediterranean cruises under the management of the Pullmantur of Barcelona, Spain. The day she will be scrapped will be sad one...

Links:


- T.S. Eugenio C postcards from Simplon Postcards.
- Aleksi Lindstrom's T.S. Eugenio Costa page.
- Navi' D'Italia's T.S. Eugenio C page.
- Philippe Brebant's T.S. Eugenio Costa photo.
- Shipphotos.co.uk's T.S. Edinburgh Castle.
- Frederick Bartoli's T.S. Edinburgh Castle.
- Seaview.cok.uk's T.S. Edinburgh Castle profile.
- Cruiseserver.net's Premier Cruises and T.S. The Big Red Boat II information page.
- Vintageliners' T.S. The Big Red Boat II page.
- A Sealetter.com article: "Remembering Premier Cruise Line, by Lisa Plotnick.
- International Shipping Partner's T.S. The Big Red Boat II sale/charter assistance page.
- Costa Armatori S.p.A. (Costa Cruises).

Line Drawings: From Associazione Navimodellisti Bolognesi.

Other Pictures: