Welcome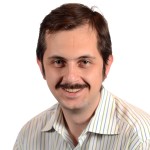 Contact:
Istanbul Technical University Electronics and Communications Engineering Department
Office Room: 2317
e-mail: yeltenm@itu.edu.tr
Hello!
Welcome to my home page! I am an assistant professor at the Electronics and Communications Engineering Department of Istanbul Technical University. My research areas lie in the broad area of microelectronics. In particular, I develop models and computer-aided design techniques for devices and integrated circuits. I am also interested in analog and RF integrated circuit design as well as variabilty and reliability modeling of complex systems.
All interested students are welcome to join my research group. There are several projects that I am involved and have MS and PhD positions available.
For a comprehensive track record of my publications, you are welcome to visit my
Google scholar page
.
Recent News
January 2016: Dr. Yelten has received the TUBITAK 1001 project grant
December 2015: Dr. Yelten has received the TUBITAK 2232 fellowship and research grant