<![if !supportEmptyParas]> <![endif]>

Overall length: 136.3 m

Beam: 21.5 m

Draft: 5.8 m

Gross Tonnage: 13758 tons

Passengers: 555

Power: 2 Pielstick-Crossley diesels, 16000 HP

Service Speed: 19.0 knots

Operating Routes: Worldwide crusing. Mostly European, Mediterranean and Caribbean cruises.

Sister (or similar) Ships: None

Former Names: M.S. Copenhagen (1970), M.S. Prinz Heinrik af Denmark (1971, proposed, never effective), M.S. Copenhagen (1974).

Later Names: None

Owners:
- 1970-1975: A/S Nordline, Copenhagen, Denmark.
- 1975-April, 2002.: Black Sea Shipping Company (BLASCO), Odessa, Soviet Union, then Ukraine. She has been laid up at Naples, Italy between 1996 and June, 2002.
- April, 2002-Present: Bowline SA, Panama.

History and Current Status: Her keel was laid down at the Vickers-Armstrong shipyard as the "M.S. Copenhagen" of the A/S Nordline of Copenhagen, Denmark. In November 1970, the building stopped because of extra building costs that A/S Nordline refused to pay. In September 1971, an agreement was reached between the company and the shipyard and the building started again with a new proposed vessel name of "M.S. Prinz Heinrik af Denmark". In December 20, 1972, she was launched without a name. In March 1973, she was towed to Swan-Hunter for fitting out and completion. In March 1974, the first sea trials took place. Soon after, in April 1974, the A/S Nordline placed her for sale because of financial difficulties. In May 1975, she was purchased by BLASCO of Odessa, Soviet Union, and renamed "M.S. Odessa". In 1984, her passenger capacity got reduced from the original 590 to 555 for crusing purposes. Under the colours of BLASCO, she was used in worldwide cruising very succesfully, with a large passenger return rate. After the fall of the Soviet Union, she operated under the Ukrainian flag until 1995, when she got arrested in Naples, Italy, because of company debts. She has been laid up in Naples since. In November 2001, there was a rumor that she was going to be sold to a company in Luxembourg (De Malo & Partners) on auction, but that never materialized. According to Mr. Patrick Wetter, the same company is still looking to purchase her from BLASCO for 5 Million USD, which will be added to an estimated 25 Million USD needed for repairs. In April 2002, Patrick Wetter announced that M.S. Odessa is actually in pretty bad shape, even taking on water through badly rusted steel plates and that she would need more money to be seaworthy again. However, later that month, he went on saying that there are news about M.S. Odessa, without getting into more detail. I am assuming that these are good news. The story goes on (hopefully)!...

UPDATE, July 19th, 2002: As reported by Patrick Wetter of DeMalo & Partners of Luxembourg: "The ship has been sucessfully aquired by auction on April 9th at 11:00 am in Naples. The registered owning-company was settled in Panama and called Bowline S.A. Together with the help of the ukrainian Antarctica Company and foreign investors from Spain, the ship is now free of arrest. Repair works are currently being performed in Naples to have the ship ready for sail on a short basis, that means, it is forseen to have her entirely refurbished later on this yaer in either a yard in the Mediterranean Sea or in Sevastopol / Ukraine. Current negotiations with Naples drydock are going on to have the necessary things fixed as soon as possible, depending on the price. As well, the necessary certificates are needed as well as the reflagging of the vessel to Panama, also if not yet definitely but just to be ready to sail. As the total price for the vessel, the laywer has paid a sum of 1.250000.-EUR at Naples sea-court. 500000.-EUR were immediately provided for the remaining crew (8 people) onboard the ODESSA. As I already mentioned, the aim will be to keep the ship's name and ukrainian crew and plans will be developped during the next months to have her ready to sail on the cruise-market as from Summer 2003 on. Some of the 8 crew-members are very happy since a nightmare is now over for them. Anyway, some of them would be very happy to join the new crew next year."

(email all info about her to ata.bilgili@dartmouth.edu)

Notes: Another small and beautiful ship at human scale, carrying the typical lines of the 1970's "modern" cruise vessels!... M.S. Odessa was an occasional caller at the port of Istanbul due to her worldwide and Caribbean cruising itenerary. The only possible times to see her were during summer months when she was doing Mediterranean/European cruises, or when she was due for yearly services and shipyard visits around her home port of Odessa. These visits to shipyards were usually scheduled before or after the European cruising periods. Probably it is because of these recent shipyard visits that I always remember her in shipshape condition, with no rust on the nicely painted hull. I remember M.F. Belorussiya, M.S. Osetiya and M.S. Fedor Shalyapin in rust, but not M.S. Odessa!... This memory actually perfectly goes well with her reputation of being the most luxurious vessel in the BLASCO fleet. Being laid up in Naples, Italy, since 1995, she is probably in pretty bad shape nowadays. All I can do now is to wish for her to be sold at auction to some serious and well-operated company for extended years of service in the cruise industry.

UPDATE: My above wish has come true and she will sail again. see the History and Current Status section for more details. Maybe, one day, I'll be able to sail on her...

Being away most of the summer and not taking regular trips between European and Asian Istanbul, I unfortunately do not have any pictures of her, except that one black and white photo that I really adore... It was taken from the Turkish Maritime Lines ferry M.F. Truva, leaving Istanbul for Izmir, on a rainy summer day in 1979. Docked along the pier of Karakoy are M.S. Shota Rustaveli of BLASCO (she used to carry the logo of 1980 Soviet Olympics then), M.S. Achille Lauro of Starlauro S.p.A. and the lovely M.S. Odessa of BLASCO. Definitely a page from the history!... Make sure you click on that photo down below.

Links:


- Aleksi Lindtstrom's M.S. Odessa page.
- An August 3rd, 2001, article on laid-up M.S. Odessa from the British Independent News of the United Kingdom.
- A story about salvaging the anchor of M.S. Odessa by Lorenzo Dee Belveal.

Line Drawings: From the book "Soviet Bloc Merchant Ships" by Bruno Bock and Klaus Bock, 1981.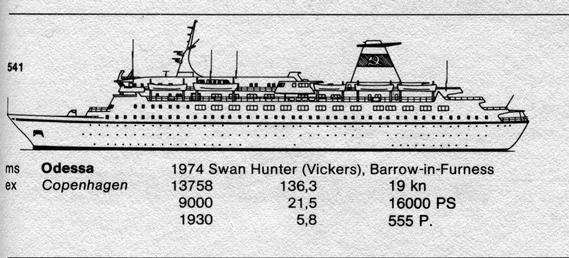 Other Pictures: